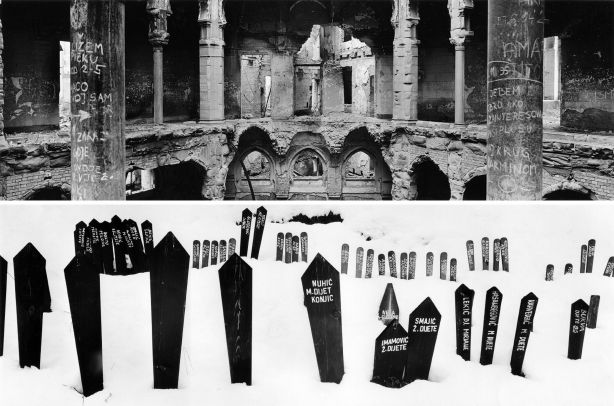 The Siege of Sarajevo was the longest siege of a capital city in the history of modern warfare. After being initially attacked by the forces of the Yugoslav People's army, Sarajevo, the capital of Bosnia and Herzegovina, was besieged by the army of Republika Srpska from 5 April 1992 to 29 February 1996. During the four-year siege over 10,000 people were killed and 60,000 injured.
Paul Lowe had first arrived in Sarajevo a month after the siege started in May 1992, and his first stories concentrated on how the citizens were adapting to life under constant shelling and sniping. By the end of 1994 he began to document another facet of life under siege, the texture and fabric of the city itself.
With a large format panoramic camera he explored the various ways in which the streets had been fragmented by artillery shells, mortars, rockets and bullets, and the extraordinary variety of defenses that its citizens had improvised from concrete, shipping containers and vehicles to defend themselves from the fire.